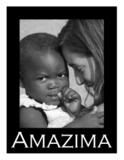 I found Amazima Ministries as I began to read adoption blogs several months ago. I saw the Amazima button on several blogs and thought it must be something these people find to be special. Boy, is it ever.
I would encourage you to take a look at their website and/or blog and read about the amazing things Katie is doing in Uganda. The truly amazing thing to me is that Katie, who is the primary "hands and feet" of this ministry in Uganda, is only 20 years old. Don't quote me, but I think she went on her first mission trip as a teenager and then went directly back to Uganda upon her completion of high school. It's incredible all that God has done through this young life!
Katie has truly been in inspiration to me as I have begun to find out more about just how many lives she has touched and all she and her own family have sacrificed to serve others. I want to be like Katie. I'm not saying that God has called me to live in Africa, but I am saying that God has called me, all of us really, to serve with the heart that Katie has. To be sold out for Christ and ready to give our lives to serve Him, which, in reality means serving others.
It seems that Katie has truly taken hold of Matthew 10:38-39. She has truly given her life and in the process, found her own. God is SO amazing. It's incredible what just one person who is willing to answer His call can do. I guess, rather, it's amazing to witness what God can do through one person who will say, "yes!".
Doug and I have decided to help support Katie and Amazima by contributing regularly to help feed and educate the hungry children they serve. I hope you'll take time to read about Katie and her ministry.
Whatever it is that God is leading you to do in your life, please say "Yes!" and trust that He will give you life as you have never known it!